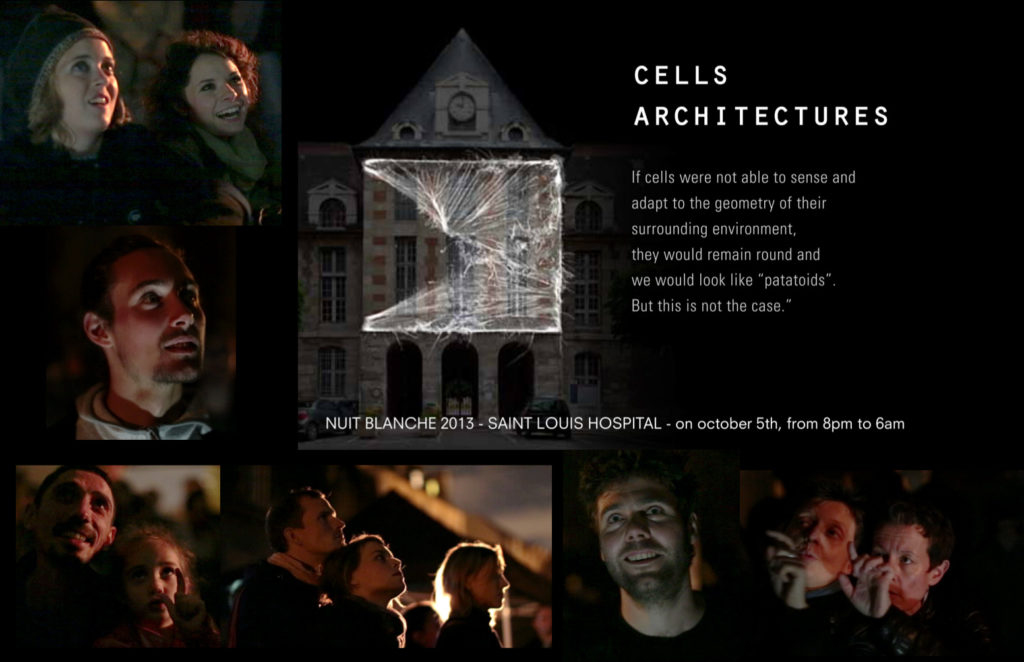 This project was a joint effort with the artists of the Groupe LAPS. We used video-projection to overlay a cell\'s architecture onto a building\'s architecture to reveal their similarities and differences. 
Because of their microscopic size, cells are insensitive to gravity. Therefore, the laws that guide the assembly of the filaments supporting cell architecture are different from those laws that dictate the structure of a building. To compare these two types of architecture, the front facade of the hospital has been miniaturized to the size of a single cell, i.e. few hundredths of a millimetre. The dynamics of the miniature filaments within cells have been video-recorded over several days, and was shown as accelerated movies projected onto the building\'s facade. 
Thus, despite the tremendous differences in their spatial and temporal scales, two worlds came together for one night.
The project was designed by Manuel Théry. Cells were micropatterned and movies were acquired on a Nikon confocal spinning disk by Andreas Christ. They were then arranged by Nadir Bouassria (LAPS) and Pierre Froment (LAPS), and sonorized by Erwan Quintin (LAPS). The final movie was projected onto the building by idscene.